This accredited program targets FPs/GPs, specialists, trainees and other health professionals. The
program is divided into 2 parts: Oncology I (9 modules) and Oncology II (8 modules). Oncology I is currently available. Oncology II will be released in the near future.
Click here to view the demo.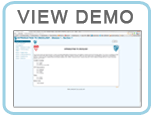 Participants have the option to register for all or some modules.


This course meets the accreditation criteria of The College of Family Physicians of Canada and has been accredited by the Continuing Health Professional Education office, McGill University for up to 25 Mainpro-M1 credits (including optional activities) (Onco I). Each module of this course qualifies as a scanning activity under Section 2: Self-learning as defined by the Maintenance of Certification (MOC) Program of the Royal College of Physicians and Surgeons of Canada for a maximum of .5 credit per module.
Oncology I
includes the following modules: